ONLINE SHOP
Explore the World of Dilmah
Dilmah in Hospitality and Food service
Integrity & Ethics
Dilmah Tea Inspired
Leisure and Hospitality
Knowledge & Training
Online Shop
First Served in Asia at the W Singapore's decadent Woo Bar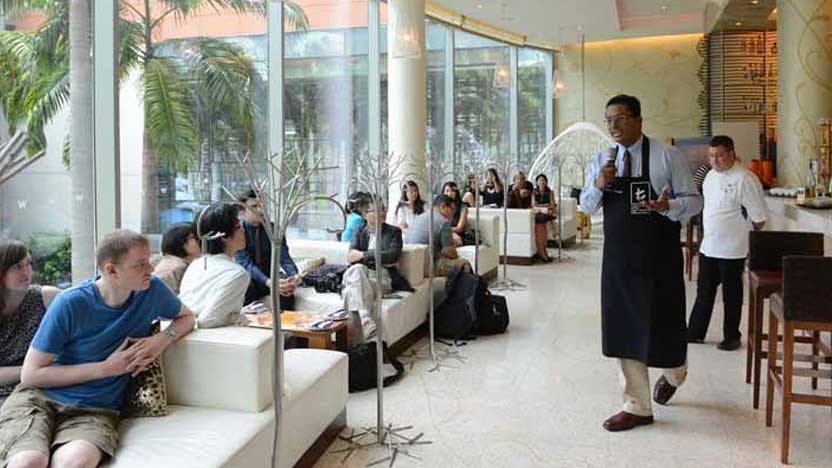 Foodies in Singapore gathered at the chic Woo Bar at the W Singapore yesterday for the First Serving of Dilmah Seasonal Flush Craighead Estate Small Batch Fine Silver Tips and Opata Estate Small Batch FBOP1. At the event Chef Matthew Woolford offered a deliciously different preview of W T Time, an unique perspective on afternoon tea. The Fine Silver Tips, produced in a batch of only 12kg., added a seasonal allure to the luxury of Silver Tips, white tea. The handmade tea was uniquely blessed with a floral, seasonal note that enhanced the experience of white tea dramatically.
In complete contrast, Opata Estate FBOP1, made in a batch of 50kg., was spicy, malty and medium bodied, with a beautiful fruity fragrance. The teas offered insight into the luxury of the seasonal phenomenon which is at the heart of luxury in fine teas. Handpicked and made in the artisanal way, both teas are special because of the combination of seasonal winds and climatic factors that nurtured for a brief moment, a very special quality and flavor through the stress that they impose on the plant in certain locations.
The indulgent teas were presented with an indulgence of a different sort with Chef Matthew Woolford unique take on high tea. He extended his signature Foie Gras with port wine glaze to a selection of sweet and savoury high tea items that are best described as culinary art. The combination of ingredients and textures that Chef Matthew produced were intriguing in the harmony they achieved on the palate. The finale was equally good with a WooBar special – cold brewed Fine Silver Tips with a hint of bitters, and vodka, as a refreshing and delicious tea cocktail.
True luxury … fine tea, crafted entirely by nature and then handpicked and handmade by artisans.