ONLINE SHOP
Explore the World of Dilmah
Dilmah in Hospitality and Food service
Integrity & Ethics
Dilmah Tea Inspired
Leisure and Hospitality
Knowledge & Training
Online Shop
New tea experience in the Sultanate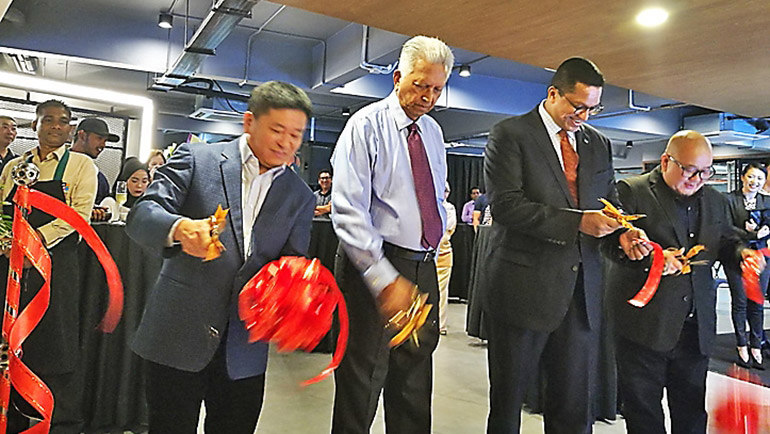 WORLD renowned producer-owned tea brand officially launched its latest signature t-Lounge, a Dilmah's first in Brunei and the third among Asian counters.
The launching ceremony was held at the lounge in Little Soho last night.
Dilmah Tea founder, Merrill J Fernando, accompanied by his son, CEO of Dilmah Tea, Dilhan C Fernando attended the event.
Management of local business partner Winmotion Enterprise, Teng Chee Khiong, Teng Chee How, Christina Teng and Adeline Ng were also present.
Winmotion Managing Director, Teng Chee Khiong, said they are honoured to be partnered with t-Lounge by Dilmah.
Dilmah Tea was founded by Merrill in the 50s and four decades later was joined by his two sons Dilhan and Malik who shared his passion and today they along with the founder's grandchildren carry forward the legacy.
He noted that as the Fernando family believes business is a matter of human service, all packaging profits are retained in Sri Lanka to fund the MJF Charitable Foundation and Dilmah Conservation where MJF enhances the lives of over 10,000 people annually through more than 100 different humanitarian projects.
Meanwhile, Dilmah Tea CEO Dilhan said that it was a wonderful thing to be able to bring their tea here.
Tea enthusiasts can now enjoy not just tea gastronomy but also the upscale lifestyle locally at the t-Lounge and the experience includes fine tea served in varieties of hot, chilled, T-shakes, sparkling or in tantalising mocktails and shooters.
Guests will also be able to enjoy specialty tea mixes such as Dilmah's Blueberry and Pomegranate Iced Tea Sweet T Rose, T-Kisch and many more.
T-Lounge also serves casual and light food with T-inspired menu with tea pairings.
Dilmah's tea lounge not only caters to tea enthusiasts but also casual diners.
Please click here to View the Original Article in Borneo Bulletin