ONLINE SHOP
Explore the World of Dilmah
Dilmah in Hospitality and Food service
Integrity & Ethics
Dilmah Tea Inspired
Leisure and Hospitality
Knowledge & Training
Online Shop
Sentosa WooBar mixes it up with "Drop the T"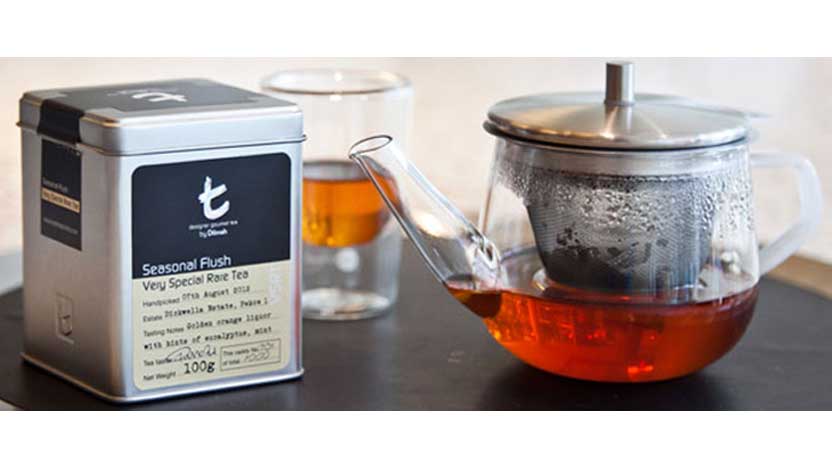 W Singapore – Sentosa Cove WOOBAR presents DROP THE T, a glamorous high-tea experience that features an exquisite selection of Dilmah' s finest tea and savory delights served up in a silver bird cage with a whimsical touch.
The glamorous high-tea set, served on a decorative bird cage with the backdrop of the marina and yachts at WOOBAR and relax in style.
Together with Dilmah, WOOBAR presents the Dilmah Seasonal Flush – which features an exotic tea blend that is only harvested when it embodies the perfect tea terroir and taste. The award-winning Dilmah Seasonal Flush: Dickwella Estate Pekoe 1 is a rare and delicate tea with hints of eucalyptus, mint, lemon and thyme in fine marriage, a true tea connoisseur's dream. The Dilmah Seasonal Flush will be available in Singapore for the first time and will be available exclusively at WOOBAR during Drop the T² sessions daily.
Dilmah Tea was the first international tea brand to be owned by a producer and to be picked, perfected and packed at source, right where it is grown. The brand's commitment to tea that is garden fresh is linked to the reality that fresh tea is richer in flavour, aroma, health benefits and enjoyment. This incredible partnership personifies style, taste and personality – a perfect fit what W Singapore and Dilmah stands for as a brand.
"We are thrilled to partner W Hotel to launch the Dilmah Seasonal Flush exclusively in Singapore. Worldwide, W Hotels are recognized as inspiring, iconic and innovative – the very words that describe the Dilmah Seasonal Flush. We are confident that this rare and amazing tea will tantalize even the most discerning of palates and we look forward to the birth of even more sophisticated tea connoisseurs in Singapore," said Dilhan Fernando, Director of Marketing, MJF Group, and son of Dilmah's founder, who has been advocating both contemporary tea-drinking and tea's traditional goodness, through unique initiatives by Dilmah. "This partnership reiterates both W Hotel's and Dilmah's similar philosophy that bespoke beverages can precede food in gastronomy; we are putting the focus of tea back into contemporary 'real high tea', with the finest tea and food pairings."
Tea and the World Association of Chefs Societies (WACS) have joined hands in taking tea and culinary art to new heights. The partnership which commences in July this year builds on Dilmah's Tea Gastronomy programme.